Coming soon
Our trip to Texas - May, 2016.
Death Valley - April, 2015
It has been a long time but our pictures are finally ready. It was a quick three day trip. Enjoy our pictures here.
Chino Airshow - May 1, 2016
Didn't get my pictures up from last year but this years are better. This is put on by Planes of Fame in Chino. Hope you enjoy the pictures. (The flying wing pictures are for Kirsten.) See our pictures here.
Egypt and the Red Sea - Dec 1-13, 2015
We have finally got our pictures up. We traveled again with Ken Kurtis of Reef Seekers (www.reefseekers.com). We spent a couple of days seeing museums and the pyramids then went south and got on a live aboard dive boat for the rest of our trip. Hope you enjoy our pictures. See our pictures here.
Belize - Oct-Nov 2014
This was our second trip to Belize. The first was on a cruise ship with only time for a couple of dives. This time we spent and entire week. The trip was organized and run by Ken Kurtis of Reef Seekers (www.reefseekers.com). This was a live aboard dive trip on the Sun Dancer II. The crew and diving was great. See our pictures here.
Roatan - Nov 2013
Made our second trip to Roatan (Bay Islands of Honduras). This was our third trip with Reef Seekers (www.reefseekers.com). Learned that November is the rainy season so the visability left something to be desired. Still had a good time, see our pictures here.
Houston - Nov 1, 2013
On our way to Roatan we stopped in Houston to tour the Johnson Space Center. We took the long (Level 9 tour) that was supposed to take 4 hours but lasted over 5 hours (no complaints). We got to see things that you don't see on the shorter tours (like the Neutral Bouyancy Lab, the old mission control, and Shuttle Avionics Integration Lab).
See our pictures here.
Bonaire - May 2013
Made our second trip to Bonaire (Dutch Caribbean). This was also our second trip with Reef Seekers (www.reefseekers.com). Very enjoyable diving in warm (82 degree) water. There were a number of people on this trip that were on the Sea of Cortez trip. We got a lot of pictures, some of which you can see here.
San Francisco - Nov
We made a trip to San Francisco to see Mike's brother and Sharol's sister. We made stops at Hearst Castle, Alcatraz, the Golden Gate Bridge, the California Academy of Science/Steinhart Aquarium, and Muir Woods. Enjoy our pictures here.
Picture from the Endeavour Preview
Here are our pictures from the Endeavour Preview at the California Science Center from October 29th. The exhibit opened to the public on October 30th. Come to the science center and see the exhibit. Be sure to order tickets in advance. Click here to see the pictures.
Endeavour Flyover - Sept 21, 2012
Sharol and I went to Hawthorne Airport for the Endeavour flyover of Los Angeles. Got some good looks and took several pictures. I think I even got the pass over the California Science Center. Click here to see the pictures.
Transit of Venus - June 5, 2012
Here are some pictures I took of the Venus transit. I tried to use some cameras with long zoom lenses but was unsuccessful so I pulled out my old telescope. By the time I located and pulled out all the parts the transit was and hour in. Of course we didn't get to see then end due to it ending after sunset. See the pictures here.
Eclipse of May 20, 2012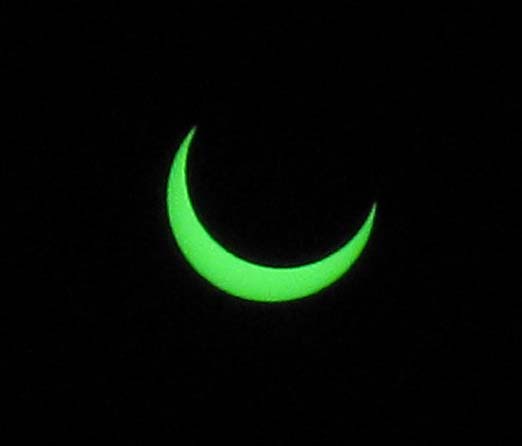 I took this picture from our back yard. I just used a welding filter in front of the camera, all hand held. Wish we could have gotten to near the centerline to see the annular but we had just gotten back from Bonaire and were exhausted. Maybe next time.
Bonaire - May 11-19
We have been slow getting these pictures up a couple of reasons. One, we were busy with our classes with Jack and Sue Drafahl. Classroom work was from 4:30pm to about 10pm with a break for dinner (about 2 hours, service was slow). Two, internet access was slow so we wouldn't have been able to get them up anyway.
We had a great trip. The diving was easy.
Enjoy our pictures, we enjoyed taking them.
Sea of Cortez - Oct 1-8
Went on a live-aboard trip to the Sea of Cortez. Also went on a hunt for Whale Sharks, we were successful. See our latest pictures here.
First SCUBA trips of 2011
Went to the Eureka Oil rig and then Catalina for a 2 day dive trip in July on the Bottom Scratcher dive boat.
In August did our first diving off of Palos Verdes on the Pacific Star dive boat.
Victoria BC and Seattle WA - Sept 2010
Our trip for cold water diving. Finally got all our pictures posted after other priorities and technical difficulties. Labeling will take a while at home. Lowest temperature we saw from our computer so far was 46 degrees (we haven't looked at all dives yet.
Hawaii September 2009
We went to Hawaii leaving on our anniversary. We spent three days on Kauai then joined our friends, Steve and Shelley Abrams, for a week on the big island.
I had hoped to post while we were there but kept too busy to post until we got back. October 3 - Finally got all our pictures posted, hope you enjoy them.
San Diego Wreck Dives
On July 25th and 26th we made a trip to San Diego to dive the wrecks of the RubyE and Yukon with the La Verne Eco Dive Club. Hope you enjoy our pictures.
Roatan trip April 17-25
Update: Have turned the pictures into a Flash slideshow. The separate days have now been replaced with a single slideshow.
We have now posted pictures for all days of the trip. This is with preliminary processing. Note: Pictures were updated on November 9th with ones that have been corrected.
Hope you enjoy our efforts,
Mike and Sharol
Our Web site
We are Mike and Sharol Carter. We set up this site to show our friends and family about our interests, our hobbies, trips, and family events.
We have just started setting up this site so it is under construction and will take some time to get it fully populated. Come back and check us out later.
Our hobbies
Our current hobbies are scuba diving and photography, which we have combined into underwater photography.
You will be able to see pictures (and maybe videos) from our trips by selecting them from the column at the left.
Our Trips
We have taken a few trips that you will also be able to access from the column at the left.